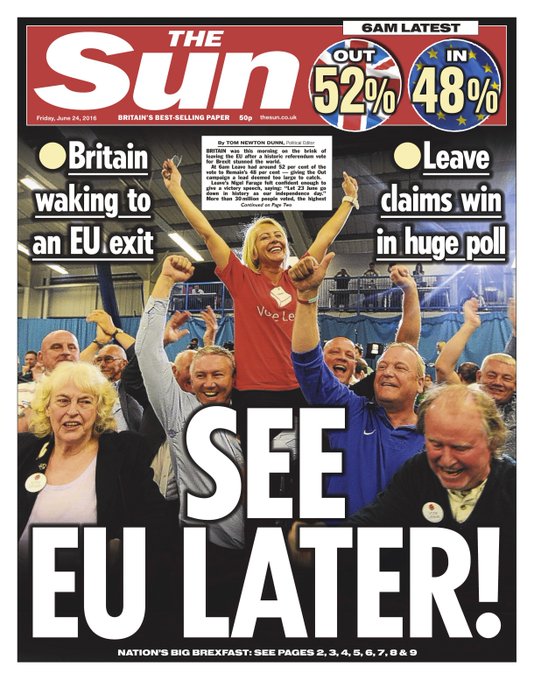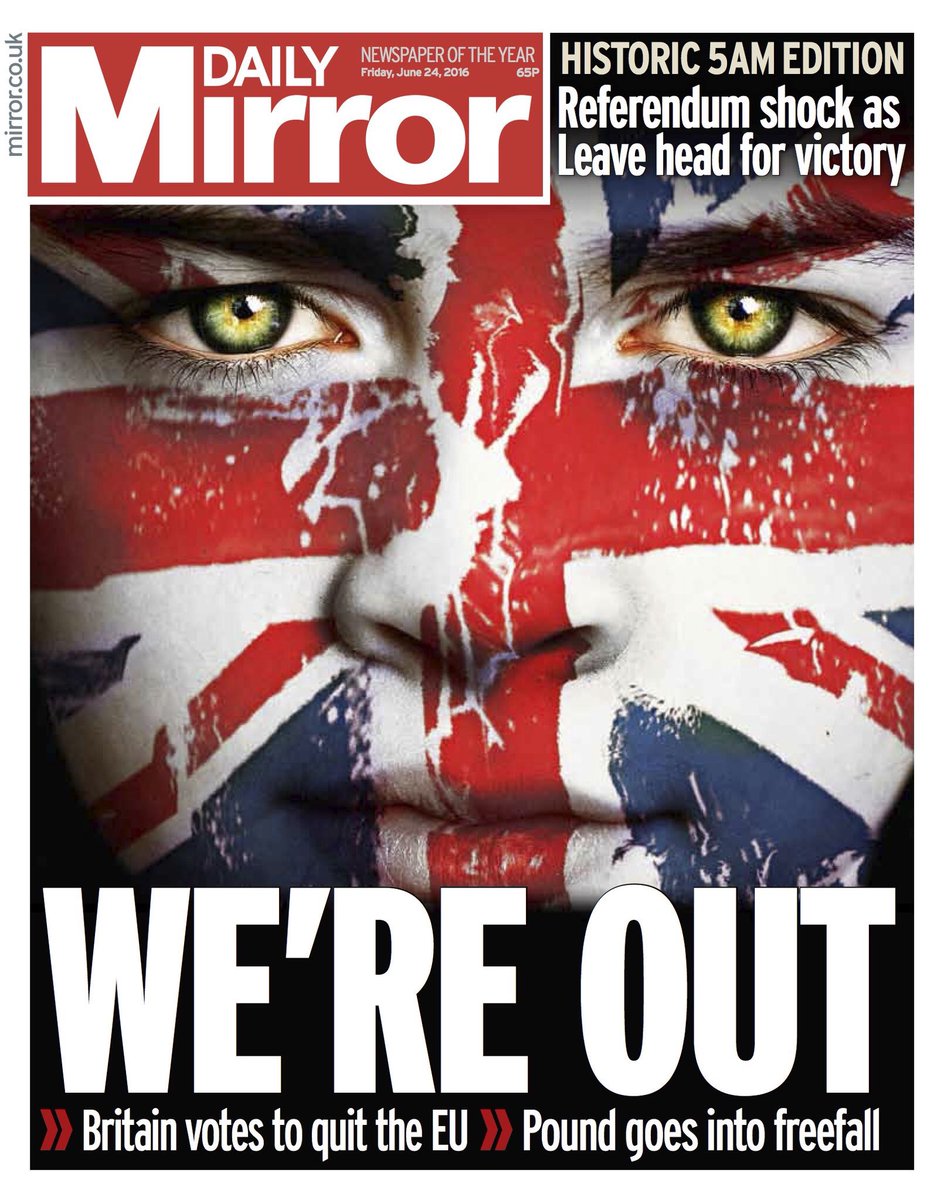 From Fox News:
Britain voted to leave the European Union after a bitterly divisive referendum campaign, toppling the government Friday, sending global markets plunging and shattering the stability of a project in continental unity designed half a century ago to prevent World War III.

The decision launches a years long process to renegotiate trade, business and political links between the United Kingdom and what will become a 27-nation bloc, an unprecedented divorce that could take decades to complete.

"The dawn is breaking on an independent United Kingdom," said Nigel Farage, leader of the U.K. Independence Party. "Let June 23 go down in our history as our independence day!"

Prime Minister David Cameron, who had led the campaign to keep Britain in the EU, said he would resign by October and left it to his successor to decide when to invoke Article 50, which triggers a departure from European Union.

"I will do everything I can as prime minister to steady the ship over the over the coming weeks and months," he said, "but I do not think it would be right for me to try to be the captain that steers the country to its next destination."

The electoral commission said 52 percent of voters opted to leave the EU. Turnout was high: 72 percent of the more than 46 million registered voters cast ballots.
The "European Union" is a piss-poor socialist disaster. It resulted in the evisceration of national sovereignty, the mass influx of violent criminal muzzie refujihadists, and the implementation of some of the worst economic and domestic policies ever concocted.
Germany, in particular, has disintegrated under the idiocy of Angela Merkel, who serves as an ambassador of Islamofascism.  Her welcome mat for muzzie vermin has reverberated throughout Germany and the Western nations in the EU.
Barky Obama, ever the authoritarian shitbag, threatened to put Britain at 'the back of the queue' if they dared to leave. Looks like they couldn't care less about Barky's bluster.
Hopefully, this will set the stage for a domino effect; for the rest of the "EU" to become independent again. The catastrophic 'European Union' is collapsing from the weight of its own hubris. It can't happen soon enough.
Related posts:
https://sfcmac.wordpress.com/2012/11/15/that-awful-noise-you-hear-is-the-collapse-of-euro-socialism/
https://sfcmac.wordpress.com/2008/06/18/the-irish-veto-eu-treaty/
Related article:
https://www.commentarymagazine.com/articles/european-union-a-disaster-in-the-making/