When the pressures of being the world's-most-powerful-leader get to be too much for the exhausted Annointed One, he takes a vacation.
This morning, as Japan's nuclear crisis enters a potentially catastrophic phase, we are told that Obama is videotaping his NCAA tournament picks and that we'll be able to tune into ESPN Wednesday to find out who he likes.

……With various urgencies swirling about him, Saturday's weekly videotaped presidential address focusing on "Women's History Month" seemed bizarrely out of touch.

Obama Friday took time out to honor the 2009-10 Stanley Cup Champion Chicago Blackhawks. Thursday was a White House conference on bullying – not a bad idea perhaps, but not quite Leader of the Free World stuff either.

Obama appeared a little sleepy as he weighed in against the bullies, perhaps because he'd spent the night before partying with lawmakers as they took in a Chicago Bulls vs. Charlotte Bobcats game.

……Meanwhile, the president has been studying for weeks whether to establish a No Fly Zone over Libya, delaying action while the point becomes increasingly moot as Qaddafi begins to defeat and slaughter his opponents. And lawmakers from both Parties are wondering why he seems to be AWOL in the deficit reduction debate.

The Libya indecision follows an inconsistent response to the protests that ousted former Egyptian President Mubarak and seemed to catch the White House off guard. The perfunctory response from the White House Monday to Saudi Arabia's dispatch of troops to Bahrain suggested the administration wasn't prepared for that one either.http://www.whitehousedossier.com/2011/03/15/president-obamas-trivial-pursuits-2/
Another break from a hard day at the links to make it in time for Carnival.
http://blogs.forbes.com/kenrapoza/2011/03/14/obama-heads-to-rio-sunday-maximum-security-awaits/
Some insight from political cartoonists: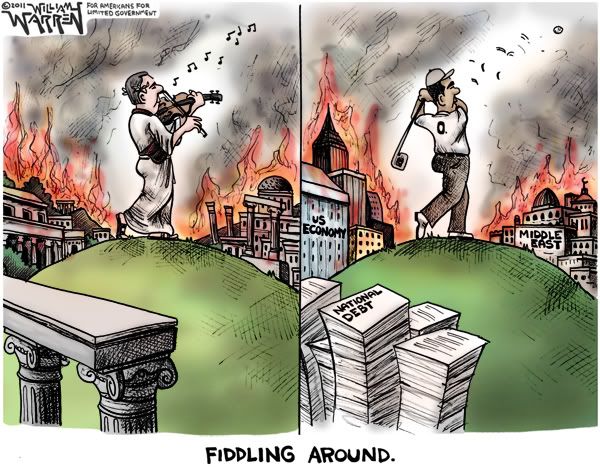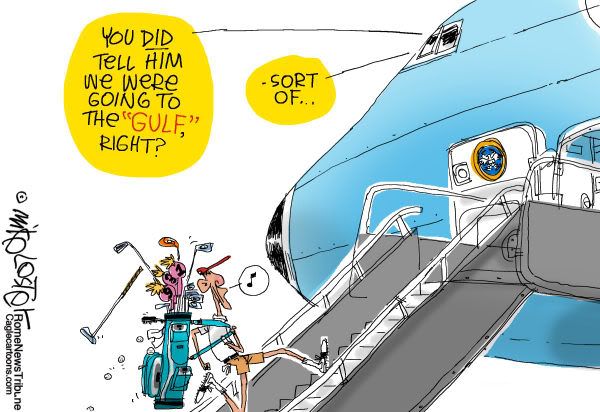 This sums up his majesty's viewpoint:

After his R&R, he should be good and ready for the next round of 19 holes.