Via Breitbart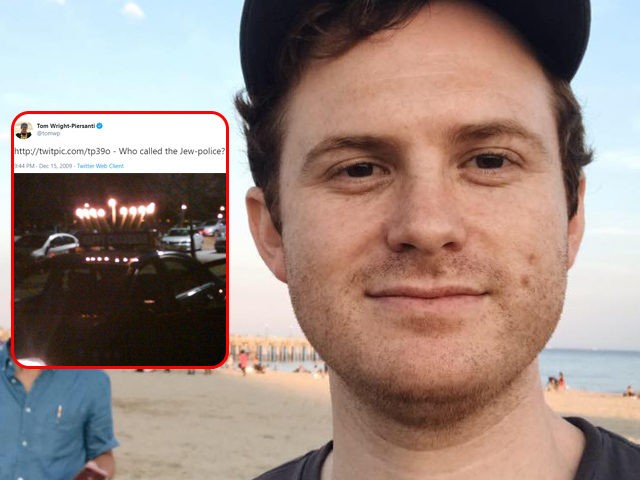 A New York Times political editor has a years-long history of antisemitic and racist comments on his Twitter page, a Breitbart News investigation has found.

Tom Wright-Piersanti, who has been a Senior Staff Editor at the New York Times for more than five years according to his LinkedIn page and according to his Twitter page oversees the newspaper's political coverage, has made a series of antisemitic and racist tweets over the years. Many of them are still public on his Twitter page as of the publication of this article, but some have since been deleted.

The revelation of these tweets come in the wake of the executive editor of the Times stating that the newspaper intends to target the president on racial issues over the next couple years, after the newspaper's efforts on the Russia hoax scandal failed.

One tweet that is still public is from the early morning of New Years Day in 2010, when he admits he is antisemitic but announced that his New Years resolution was to be less antisemitic—even though the tweet's content mocks Jewish people.
Another one from the evening of Dec. 15, 2009, includes a photograph of a vehicle with what looks like a Menorah–culturally and religiously associated with the Jewish holiday of Hanukkah–on the roof. Wright-Piersanti commented: "Who called the Jew-police?" Breitbart News has not been able to determine what Wright meant by "the Jew-police," and the New York Times has not yet responded to requests for comment on this matter.

That tweet, and the photograph of the Menorah-bearing vehicle, are also still public on the New York Times politics editor's Twitter feed as of the publication of this story.

The revelation that a politics editor in the Times newsroom—who has spent years there working on countless stories—has had this antisemitic content on his Twitter feed, still publicly available, for all the years he has worked there and for several years prior to the Times hiring him comes amid a raft of other problems with antisemitism from the left and from the Times in particular. It also comes as the Times' editorial board lectured the president on antisemitism in an editorial published Wednesday evening.

"In the bloody history of modern anti-Semitism, one of the most common justifications for violence is the inflammatory canard that the loyalty of Jewish citizens is suspect," the paper's editorial board wrote. "President Trump has repeatedly employed that libel in recent days as part of a verbal assault on the Democratic Party. Such language is traditionally used to incite anger against Jews. Mr. Trump, surreally, is employing it in an effort to win Jewish votes."
That's pretty fucking funny coming from a leftist rag run by hypocrites.
……When asked to respond to the tweets from Wright-Piersanti, U.S. Ambassador to Germany Richard Grenell—a leading voice in the global fight against antisemitism—told Breitbart News that it is "very troubling" that Wright-Piersanti is making newsroom decisions at the Times particularly in the wake of the Times' issues with antisemitic cartoons that promoted the newspaper to halt printing of cartoons in its international edition altogether. Ambassador Grenell told Breitbart News:

"Anti-Semitism is on the rise. It is a human problem. We see it in the U.S., in Germany, in Europe – everywhere. But when antisemitic comments like these come from a New York Times newsroom insider, it is very troubling – especially because the NYT just decided to stop running political cartoons because they couldn't stop the antisemitism coming from their cartoonists."

……Antisemitic content is not the only racially insensitive content that Wright-Piersanti has published on his Twitter feed. Wright-Piersanti also sent out a racially insensitive tweet on May 18, 2010, that he has since deleted from his Twitter feed: "With asian babies, is it racist to say to the parents, 'Aw, he looks just like you!'? What if you say it before you see any pictures?"

Wright-Piersanti also sent out a number of messages about Indian people as well, bashing them repeatedly over a number of years.
Moments later, he further clarified his specific racial hatred as those from India, not Native Americans:
Wright-Piersanti also had insensitive things to say about red-headed Americans. On Dec. 22, 2009, at 7:21 p.m., he tweeted in a since-deleted tweet: "Oh my god… ginger is an anagram of the N word. No wonder it hurts so much to be called one…"

A moment later, he added in another tweet that is still publicly available:

That's it! From here on out, none of you can call me ginger except other gingers. And don't pull that "I was saying 'gingA'" crap.

— Tom Wright-Piersanti (@tomwp) December 23, 2009

He also attacked farmers with sexual innuendo in another tweet on Dec. 26, 2009. "Horticulture sounds like Whore-tit-culture, those sick fuck farmers are probably whacking off onto their crops right now," Wright-Piersanti wrote in that tweet.

Horticulture sounds like Whore-tit-culture, those sick fuck farmers are probably whacking off onto their crops right now

— Tom Wright-Piersanti (@tomwp) December 26, 2009
This is coming from a paper that switched gears from the failed "Russian collusion" allegations to accusations of "racism" and "anti-Semitism" toward President Trump.
Dean Baquet says that after the NY Times was caught "flat-footed" by the dramatic implosion of the Russia collusion hoax they peddled, the team must do a better job with their new narrative: that their political opponents, including Trump, are racist. https://t.co/BR8W1S7Y1C

— Mollie (@MZHemingway) August 16, 2019
Transcript, HERE.
It remains to be seen what will happen next, but for now Wright-Piersanti appears to be attempting to cover up his past antisemitic comments.

UPDATE 9:14 a.m. ET:

Wright-Piersanti has deleted several more of the tweets, including the one about the "Jew-police" and the one with the sexual innuendo about farmers. Another he sent about "ginger" people has been deleted too, but the several comments he made attacking Indian people remain public as of this update. The Times has still not responded to requests for comment.

UPDATE 9:24 a.m. ET:

Now, Wright-Piersanti has hidden his Twitter account from the public, shifting his account to private in an effort to cover up any comments he has made on anything. The Times spokeswomen, Rhoades-Ha and Murphy, have not replied to a follow-up request for comment on whether they think Wright-Piersanti hiding his Twitter account from the newspaper's readers and the public–in addition to stealth-deleting several of these tweets highlighted by Breitbart News–is an acceptable action from a politics editor for the paper.
The misogynist hates his female co-workers.
They lecture us with editorials that reek of their liberal moral superiority before they take off to the Hamptons for the weekend.
The paper also published an anti-Semitic cartoon depicting Israel as a seeing-eye dog for Trump.
BTW: President Trump's son-in-law Jared Kushner is Jewish.
President Trump formally recognized Jerusalem as Israel's capitol and strengthened our relations with what is our only ally in the Middle East.
For an "anti-Semite" he's pretty lousy at it.
The NYT also hires Asians who hate white people:
According to Charles Blow, another leukophobic racist at the paper, anyone who supports President Trump, including their grandmothers, are "racist". 
They've got misogynists, racists, and anti-Semites on their staff. They hit the trifecta.
But they're liberal  bigots, so it's okay.
Related post:
https://sfcmac.wordpress.com/2019/04/27/nyt-hacks-publish-anti-semitic-crap-fails-at-backpedal/