UPDATE:
The legislation was carefuly crafted in accordance with Federal statute. Which means any efforts on the part of the raging pro-illegal alien crowd to overturn it, will be futile.
……Obama calls the law "misguided" and says it "threaten[s] to undermine basic notions of fairness that we cherish as Americans." Obama has ordered the Justice Department to "closely monitor the situation and examine the civil rights and other implications of this legislation."

Has anyone actually read the law? Contrary to the talk, it is a reasonable, limited, carefully-crafted measure designed to help law enforcement deal with a serious problem in Arizona. Its authors anticipated criticism and went to great lengths to make sure it is constitutional and will hold up in court. It is the criticism of the law that is over the top, not the law itself.

……What fewer people have noticed is the phrase "lawful contact," which defines what must be going on before police even think about checking immigration status. "That means the officer is already engaged in some detention of an individual because he's violated some other law," says Kris Kobach, a University of Missouri Kansas City Law School professor who helped draft the measure. "The most likely context where this law would come into play is a traffic stop."

……Kobach, a Republican who is now running for Kansas Secretary of State, was the chief adviser to Attorney General John Ashcroft on immigration issues from 2001 to 2003. He has successfully defended Arizona immigration laws in the past. "The bill was drafted in expectation that the open-borders crowd would almost certainly bring a lawsuit," he says. "It's drafted to withstand judicial scrutiny."

The bottom line is, it's a good law, sensibly written and rigorously focused — no matter what the critics say.
http://www.washingtonexaminer.com/opinion/columns/Byron-York/A-carefully-crafted-immigration-law-in-Arizona-92136104.html
Related article:
http://www.espressopundit.com/2010/04/the-broad-anti-immigrant-bill-passed-by-the-legislature-this-week-makes-it-a-crime-to-be-in-the-country-illegally–wrong.html
Employers who knowingly hire illegals are also subject to fines and jail time, as prescribed in U.S. Code Title 8. It's time to make public arrests and prosecute those violate the law.
UPDATE:
You knew this was going to happen. The pro-illegal alien, radical delinquents rioted in Phoenix. They have their panties in a wad over enforcing the nation's immigration laws.
http://boortz.com/nealz_nuze/2010/04/plus-a-little-media-hypocrisy.html
By the way, back in 2007, a radical high school teacher spewed what  is best described as a reconquista rant.
Hat Tip to Neal Boortz.
This rant took place at a La Raza rally at (in 2007) UCLA in California. The speaker is a man by the name of Ron Gochez. He is a history teacher at a government high school in California. This man is making a living from U.S. taxpayers. In just a minute you're going to be really ticked off about that.

So we have a government school teacher, speaking at a La Raza rally. Are you ready for his rant?

I want to start off by saying that the young man who spoke a little while ago was one of my students. That made me so proud, because you know, our people have strong leaders for years and years to come. As a [Spanish] militant com barrio [ph] – a revolutionary Mexican organization here — we understand what the camarade's [ph] saying. This is not just about Mexico. It is a global struggle against imperialism and capitalism.

But we know that all that is happening within the context of where we now stand — this stolen, occupied Mexico. And the message that we bring is that we want to bring a little bit more of a revolutionary context to this. Why is it that these people, these frail, racist white people, want to keep us out of this country? It's not simply that it's the color of our skin. It's not simply that they want to exploit us. I'll tell you why. It's because on this planet right now, 6 billion people, at the forefront of the revolutionary movement — is La Raza.

When you hear from our commandantes, Fidel Castro Ruz, Hugo Chavez, Evo Morales, Brazil, Equador, you name it, we have nine, nine left of center governments in Latin America right now. And they know something that one young Argentine, Che Guevara, said. It was called the domino theory. And he knew that every single country would go revolutionary, one after the other, after the other, after the other.

So what do they fear? They know that every single country, they know that we will no longer fall for these lies called borders. We know that an El Salvadoran, a Guatemalan, a Nicaraguan, an American — there's no damn difference. We are all one people.

So, with that in mind, we see ourselves, all of us here, as the northern front of a Latin American revolutionary movement…

This government school teacher went on to say that there are more than 40 million of "our people" north of the Rio Grande – "that means more than 40 million potential revolutionaries North of the border, inside the belly of the beast."
http://boortz.com/nealz_nuze/2010/05/rantings-from-a-government-sch.html
More here: http://www.youtube.com/user/StandWithArizona
Newsflash for Gochez: Illegal immigration is not a "right", and American citizens won't tolerate your reconquista bullshit.
By the way, he still works there:
Santee H.S. in Los Angeles
http://santeefalcons.org/apps/staff/
http://www.santeefalcons.org/ Phone: (213) 763-1000
Los Angeles Unified School District Tel: 213-241-7000 superintendent@lausd.net
Los Angeles Board of Education: Tel: 213-241-6389 Email: steve.zimmer@lausd.net
I have a good idea. Let's load up Gochez and all of his "revolutionary" friends and illegals onto this device and give 'em the old heave ho.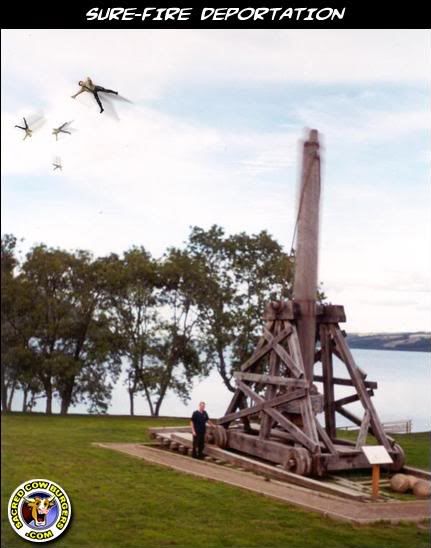 GOOD FOR ARIZONA! They are doing what the Federal government refuses to do.
Arizona Gov. Jan Brewer on Friday signed a law making it a state crime to be an illegal immigrant, just hours after President Obama criticized the measure and said the federal government would review it to see if it violates civil rights laws.

In signing the bill, the Republican governor said she has also issued an executive order to set standards to ensure racial profiling does not take place under the new law, which goes into effect in 90 days. She said the state had to step in and protect its residents because the federal government has failed.

"Though many people disagree, I firmly believe it represents what's best for Arizona," the governor said as she signed the law.

The law makes it a state crime to be in Arizona without proof of legal status, and would authorize police to demand documents from those they suspected could be illegal immigrants. It would also make it a crime to transport or hide illegal immigrants.

The Arizona law has the support of the state's two Republican senators, who said criminals among the illegal immigrant population are responsible for a marked increase in violence and crime.

But one of the state's congressman, Rep. Raul Grijalva, a Democrat, has urged businesses to boycott Arizona in retaliation for the proposed law. He said the measure would encourage racial profiling and predicted that without some sort of penalty falling on Arizona, other states would try to follow its lead.
http://www.washingtontimes.com/news/2010/apr/23/ariz-governor-signs-tough-immigration-law/
By the way, 29 states have enacted 'stop and identify' statutes:

Well Grijalva, I certainly hope other states follow Arizona's lead, because the Federal government sure as hell isn't enforcing federal statutes or border security. We don't border Sweden, so it's a safe bet that most of those illegals are from Mexico, Guatemala, Salvador, Nicaragua, and all other points in the Latin American countries.
Secondly, the minute one of them steps across the border without proper citizenship, visas, or documentation, they are already committing a felony as per Title 8 of the U.S. Code, sections 1324 and 1325. That includes those who aid, abet, harbor, and hire them. Obama and the rest of the open borders assclowns need to read that statute sometime.
I don't give a shit where they come from. If they're not here legally, get them out.
It's bad enough we have to contend with threats like muslims who get student visas then mysteriously disappear without taking a single college class. We should be scrutinizing every muslim that comes from a foreign country as well as home grown muslims returning from the Middle East. Case in point: Najibullah Zazi, Zarein Ahmedzay, Youssef Megahed, Jose Padilla, Colleen LaRose, Abdulhakim Muhammad, Daniel Patrick Boyd, Hysen Sherifi, Anes Subasic, Zakariya Boyd, Dylan Boyd, Mohammad Omar Aly Hassan, Ziyad Yaghi, Syed Haris Ahmed, Christopher Paul, a/k/a Abdul Malek, a/k/a Paul Kenyatta Laws, the list is endless.
Here's just a short compilation of domestic attacks by the 'religion of peace' thanks in part, to the lax enforcement of immigration and counter-terrorism: http://www.thereligionofpeace.com/Pages/AmericanAttacks.htm
Screw La Raza and every single one of the leftwingnut Dems and 'open borders' morons. Our national security and sovereignty is at stake and all they can do is scream "racism" whenever a law enforcement entity steps forward to pick up the ball dropped by the Federal government.
This is not 'immigration'; we're being invaded. We are a sovereign nation and we have the right and responsibility to maintain secure borders.
A commenter at Big Government sums it up nicely:
Jamesb
1933-1945 GERMANY/EUROPE:
LEGAL residents of Germany, the Netherlands, France, Poland, the USSR, and other countries are systematically ROUNDED UP, shipped off to CONSENTRATION/EXECUTION CAMPS and are SHOT or GASSED, or they are starved and worked to DEATH! Millions of VICTIMS. DEAD.
2010 ARIZONA:
People ILLEGALLY in the U.S., stopped in the commission of another offense (like a traffic stop) are arrested, feed a nice meal (or many meals), given a nice place to sleep out of the hot or cold (albeit in a jail) are treated well (BY LAW) and then are either bused or FLOWN home in a jetliner back to Mexico!

Somebody explain the SIMULARITY of these two situations to me, please.

FIND ONE DAMN THING that's the same between Nazi Germany and the United States concerning this subject. ONE.

I DARE you.
http://bigjournalism.com/fross/2010/04/30/dont-touch-that-mustache-cartoonist-depicts-nazi-arizona-adl-complains/