The little fucker was given Miranda Rights after his arrest. The scatterbrains in the DHS, the State Department, and the FBI treat terrorism as a law enforcement problem instead of an act of war; which is exactly what it is. On top of that, the sloppy security checks on foreigners and unwillingness of the agencies to communicate and share information, means the next crop of plane-traveling terrorists still have a good shot at succeeding.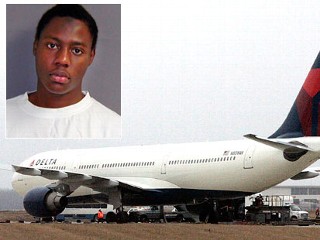 Umar Farouk Abdul Mutallab
Reuters/U.S. Marshall Service
UPDATE:
According to a law enforcement source, the first failure came on Nov. 19, 2009, the very same day Abdulmutallab father's, Dr. Umaru Mutallab, a prominent banking official in Nigeria, expressed deep concern to officials at the U.S. Embassy in Abjua, Nigeria, that his 23-year-old son had fallen under the influence of "religious extremists" in Yemen.
The second failure to flag an active visa belonging to Abdulmuttalab occurred the very next day in Washington, after Mutallab's concerns were forwarded to officials there. It was only after the Christmas Day terror attack in Detroit that U.S. officials learned that Abdulmuttalab had been issued a visa by the U.S. Embassy in London valid from June 16, 2008, through June 12, 2010.
http://hotair.com/archives/2009/12/28/cbs-state-blew-two-chances-to-flag-abdulmutallabs-visa/
UPDATE:
Well that's settled:
……The group al-Qaida in the Arabian Peninsula claimed responsibility for the attempt to bring down the jet, saying the attack was retaliation for a U.S. operation against the group in Yemen.

……In a statement posted on the Internet, al-Qaida in the Arabian Peninsula said 23-year-old Nigerian Umar Farouk Abdulmutallab coordinated with members of the group, an alliance of militants based in Saudi Arabia and Yemen.

Yemeni forces, helped by U.S. intelligence, carried out two airstrikes against al-Qaida operatives in the country this month. The second one was a day before Abdulmutallab attempted to bring down a Northwest Airlines flight as it prepared to land in Detroit.

The group said Abdulmutallab used explosives manufactured by al-Qaida members. "He managed to penetrate all devices and modern advanced technology and security checkpoints in international airports bravely without fear of death," the group said in the statement, "relying on God and defying the large myth of American and international intelligence, and exposing how fragile they are, bringing their nose to the ground, and making them regret all what they spent on security technology."

The group released what it said was a photo of Abdulmutallab, smiling in a white shirt and white Islamic skullcap, overlaid on a graphic showing a plane taking off. In a second version of the same photo, he is shown with the al-Qaida in Arabian Peninsula banner in the background.
http://www.mercurynews.com/news/ci_14079910
UPDATE:
Janet Napolitano proves how vapid she is….again:
Via NRO online:
The head of the Department of Homeland Security isn't helping. I watched her on three shows and each time she was more annoying, maddening and absurd than the pevious appearance. It is her basic position that the "system worked" because the bureaucrats responded properly after the attack. That the attack was "foiled" by a bad detonator and some civilian passengers is proof, she claims, that her agency is doing everything right. That is just about the dumbest thing she could say, on the merits and politically.
http://corner.nationalreview.com/post/?q=YTY0Y2E2NWQ3Nzc2MjYzMWMwOGJlNzE2NDVlMGUwZjM=
More here:
http://www.realclearpolitics.com/video/2009/12/27/napolitano_on_failed_terror_attempt_the_system_worked.html
This is the same head of the DHS who placed Iraq War veterans in her domestic terrorist assessment, as a "threat". Oh yeah, the country's in good hands.
UPDATE:
By the way Janet, this is what Abdulmutallab has to say:
Umar Farouk Abdulmutallab, charged with the attempted Christmas Day bombing of Northwest Airlines flight 253, told FBI agents there were more just like him in Yemen who would strike soon.

And in a tape released four days before the attempted destruction of the Detroit-bound Northwest plane, the leader of al Qaeda in Yemen boasted of what was planned for Americans, saying, "We are carrying a bomb to hit the enemies of God."
http://www.realclearpolitics.com/video/2009/12/28/abdulmutallab_more_like_me_coming_to_us.html

Yemen confirms:
Hundreds of Al Qaeda militants are planning terror attacks from Yemen, the country's foreign minister said Tuesday.
http://www.foxnews.com/story/0,2933,581370,00.html
UPDATE:
Collecting evidence:
Cell phone-related materials, including SIM cards, were recovered during searches of "flats or apartments of interest" connected to Flight 253 bomber suspect Umar Farouk Abdulmutallab, Fox News learned Monday.

SIM cards, which store cell phone numbers and incoming or outgoing calls, may be able to determine who was talking to whom in the months and days prior to Abdulmutallab's flight from Nigeria to Detroit.

The cards are now being analyzed as investigators continue searching locations where Abdulmutallab may have stayed.
http://www.foxnews.com/politics/2009/12/28/investigators-recover-sim-cards-searches-homes-tied-mutallab/
UPDATE:
The common denominator: Islam.
Umar Farouk Abdulmutallab's life until mid-2008 reflected his lofty status as the son of a prominent Nigerian banker, with a prestigious education and luxury apartment in London. After graduating from a prominent London university that June, however, Mr. Abdulmutallab soon began showing signs of trouble.
After a stopover in Dubai to continue his education, he defied his family's wishes and went to Yemen, vowing to study Arabic and Shariah law. An attempt to re-enter the U.K. in May was denied by border officials who said the college at which he was applying to study was of questionable legitimacy. Authorities haven't named the college.

When his father, Nigerian banker Alhaji Umaru Mutallab, threatened to cut his son off from funding, Mr. Abdulmutallab is said to have replied that he was "getting everything for free" regardless. Finally, Mr. Mutallab told American and Nigerian officials that he feared his son had been "radicalized" during trips outside the West African country.
http://online.wsj.com/article/SB126187511080506063.html
UPDATE:
No passport? No problem.
A Michigan man who was aboard Northwest Airlines Flight 253 says he witnessed Umar Farouk Abdul Mutallab trying to board the plane in Amsterdam without a passport.
Kurt Haskell of Newport, Mich., who posted an earlier comment about his experience, talked exclusively with MLive.com and confirmed he was on the flight by sending a picture of his boarding pass. He and his wife, Lori, were returning from a safari in Uganda when they boarded the NWA flight on Friday.

Haskell said he and his wife were sitting on the ground near their boarding gate in Amsterdam, which is when they saw Mutallab approach the gate with an unidentified man.
Kurt and Lori Haskell are attorneys with Haskell Law Firm in Taylor. Their expertise includes bankruptcy, family law and estate planning.

While Mutallab was poorly dressed, his friend was dressed in an expensive suit, Haskell said. He says the suited man asked ticket agents whether Mutallab could board without a passport. "The guy said, 'He's from Sudan and we do this all the time.'"
Mutallab is Nigerian. Haskell believes the man may have been trying to garner sympathy for Mutallab's lack of documents by portraying him as a Sudanese refugee.

The ticket agent referred Mutallab and his companion to her manager down the hall, and Haskell didn't see Mutallab again until after he allegedly tried to detonate an explosive on the plane.
http://www.mlive.com/news/detroit/index.ssf/2009/12/flight_253_passenger_says_at_l.html
UPDATE:
Failure to profile and detain:
How can a Muslim student, whose name appears on a US law enforcement database, be granted a visa to travel to America, allegedly acquire an explosive device from Yemen, a country awash with al-Qaeda terrorists, and avoid detection from the world's most sophisticated spy agencies?

Every intelligence agency across the world is fully aware that the targets of choice for al-Qaeda and its numerous affiliates and sympathisers are airliners – preferably those flying to the US. Yet Abdulmutallab seems to have avoided detection in both Nigeria and Holland when he passed through the various security checks at Lagos and Schiphol airports respectively.
http://www.telegraph.co.uk/news/uknews/terrorism-in-the-uk/6891356/Analysis-Detroit-terror-attack-is-a-major-intelligence-and-security-failure.html
First Report:
U.S. officials say a Northwest Airlines passenger from Nigeria said he was acting on behalf of al-Qaida when he tried to blow up a flight Friday as it landed in Detroit.

Rep. Peter King, R-N.Y., identified the suspect as Abdul Mudallad, a Nigerian. King said the flight began in Nigeria and went through Amsterdam en route to Detroit.

One of the U.S. intelligence officials said the explosive device was a mix of powder and liquid. It failed when the passenger tried to detonate it.
http://www.breitbart.com/article.php?id=D9CQKQ5G0&show_article=1