"Troof ta powa"!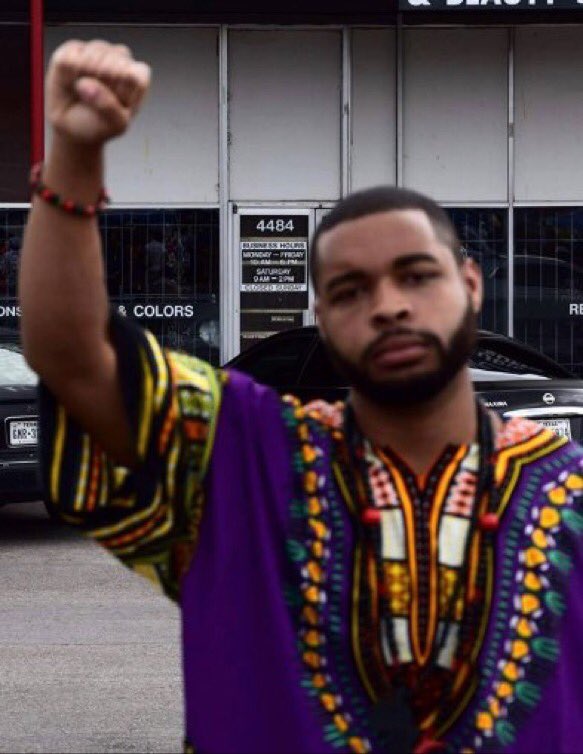 UPDATE:
The nigga had all kinds of weapons in his home:
An arsenal of weapons – including bomb-making material – was found in the home of the sniper who shot five Dallas police officers Thursday night and then told police he "wanted to kill white people."

During a search of Micah Xavier Johnson's home, detectives found bomb making materials, ballistic vests, rifles, ammunition, and a personal journal of combat tactics, the Dallas Police Department reported late Friday.
And *SURPRISE*, the shitbag was also a member of the Black Panthers:
Micah X. Johnson was a member of the Houston New Black Panther Party for a short period of time. He was reported to be a member for about six months a few years ago.

Quanell X told reporters at KPRC NBC2 in Houston that Johnson was a member of the Houston Chapter of the New Black Panther Party for a short time a few years ago.

As head of the Houston Chapter, Quanell X said Johnson was only a member for about six months. He did not say when that affiliation began or ended. Breitbart Texas has reached out to Quanell X for clarification. No response was immediately available.
From Fox News.
The sniper who killed five Dallas police officers Thursday night as they guarded protesters at an anti-police brutality march was angry about recent shootings by police and "wanted to kill white people," according to authorities.

The Associated Press identified the gunman as Micah Xavier Johnson, 25, who was blown up by a police robot while holed up on the second level of a parking garage early Friday morning after negotiations with police broke down.

The murderous rampage was the deadliest day in American law enforcement since 9/11…

"We're hurting," said Dallas Police Chief David Brown in a Friday morning news conference. "Our profession is hurting. Dallas officers are hurting. We are heartbroken. There are no words to describe the atrocity that occurred to our city. All I know is this must stop, this divisiveness between our police and our citizens."

……The suspect was killed when police sent an explosives-equipped robot into the El Centro Community College parking garage to detonate the bomb after negotiations went nowhere, Brown said, refuting earlier reports that the man killed himself. Before he died, he had claimed that explosives had been set around the city, and much of downtown Dallas was locked down while police searched before determining there were no bombs.
Johnson served with the US Army Reserve for six years and served for a time in Afghanistan. Just great. The shitbag was a Soldier, so that's where he attained tactical skills.  What a fucking disgrace.
Well the mutherfucker is dead, so that's one small consolation.
These assholes popped up to claim responsibility:
A Facebook page claiming to represent a black power group has posted messages claiming responsibility for the deaths of five police officers in Dallas.
The so-called Black Power Political Organization claimed on its Facebook account that it was behind the attack in which cops were picked out from an 'elevated position' – believed to be a multi-storey car park.

The account has since been taken down…The group has posted dozens of statements on alleged racially-motivated incidents and threatening violent action over at least the several months.

……Days ago the group had left an ominous message pledging to get 'revenge' for the fatal shooting of Alton Sterling – who was shot repeatedly while being pinned to the ground in an incident captured on mobile phone footage.

A message said: "Don't worry my people! Justice will be served for Alton Sterling!
Threats in the Ebonics vernacular:
"We contacted the police chief Carl Dabadie Jr. He already know what will happen to him, his wide Carla Settoon Dabadie, and his two sons, if he don't do what we want.

"So continue to support us, and (Black Knights) sniper assassin group."
More threats from black radical shitbags:
Dr. Mauricelm-Lei Millere, an "advisor" to the New Black Panther Party and head of the African American Defense League posted on Facebook on Friday. The message was accompanied by an image of blue and red fists embracing each other and the hashtag #BloodsAndCripsUnite, in reference to the notorious street gangs, which are typically rivals.
Mauricelm-Lei Millere made a name for himself in September of 2014 after the death of Michael Brown, who was fatally shot by Officer Darren Wilson in Ferguson, Missouri. In the days following Brown's death, Mauricelm-Lei Millere encouraged Black people to kill Wilson. "When you find Dar­ren Wil­son you know what to do! Who­ever finds him knows what must be done! Take every­thing that he took from Mike Brown," he wrote on his Facebook page, which was cited by the Anti-Defamation League, a civil rights advocacy group that tracks extremist organizations. Despite the fiery rhetoric, Millere's actual influence seems limited.

"He uses social media to call for violence against police on a regular basis and has flirted with some hate groups like the New Black Panther Party," Oren Segal, the director of the ADL's Center on Extremism, told Vocativ. "But his online following seems stagnant and even his relationship with the New Black Panther Party seems tenuous, and they tend to promote anyone who is interested in them."
Take note that Millere doesn't put his black ass out there to back up his own rhetoric. He'd rather stir the fucking pot and watch it boil.
Following are profiles of the five officers who died.
BRENT THOMPSON

Transit Police Officer Brent Thompson, 43, worked for the Dallas Area Rapid Transit (DART) system since 2009 and was the first officer killed in the line of duty since the transit system formed a police department in 1989, DART said on its website.

"As you can imagine, our hearts are broken," a DART statement said.

Thompson spent more than four years in Iraq, working for private U.S. military contractor DynCorp International as a police liaison officer who supervised Americans training and mentoring the Iraqi police force, according to his LinkedIn profile.

Thompson was married to a fellow DART officer, local television station WFAA reported, citing DART Chief James Spiller. USA Today reported that they married about two weeks ago and that Thompson was also a father and a grandfather from a previous marriage.

He attended the police academy at Navarro College in the Dallas/Fort Worth area and later taught classes there, according to his LinkedIn profile.

Thompson's Facebook page reflected the life of a devoted father, with numerous photos of family posted to his account.

"My family," Thompson wrote in a caption accompanying a photo on his Facebook page. "I'm so blessed."

Thompson posted numerous pro-police memes on his Facebook timeline, some of which mocked the "Black Lives Matter" movement and accused U.S. President Barack Obama of not adequately supporting law enforcement.

PATRICK "PATRICIO" ZAMARRIPA

Navy veteran Patrick Zamarripa, 32, who served three tours in Iraq, was one of the dead police officers, his family told Reuters. He served in the military reserves as well as working as a Dallas policeman.

His uncle, Hector Zamarripa, said by telephone that Zamarripa was a proud Mexican-American who leaves behind a wife, their toddler-age daughter and a stepson. Although he did not speak much Spanish, he went by the name Patricio among his Spanish-speaking friends and relatives.

"He enjoyed the job, that was his calling," his uncle said .

"Addicted to the thrill of this job. I own the night. I love my Country, Texas, Family, God, Friends, and Sports! Don't Tread on Me! 'Merica," Patrick wrote on his Twitter profile.

A lover of Tejano music, he posted pictures of his daughter, selfies with other officers on duty and his love for the Dallas Cowboys football team and the Rangers baseball team.

Many of his posts were salutes to other officers. He wrote "Rest in Peace" in honor of two New York cops killed in 2014 and posted an image of an eagle with a caption: "Home of the Free because of the Brave."

MICHAEL KROL

Also killed was Michael Krol, a 40-year-old officer with the Dallas Police Department, according to a statement from the Wayne County Sheriff's Office in Michigan, where Krol worked as a deputy in the jails from 2003 to 2007.

"We are saddened by the loss of the dedicated officers in Dallas – one of whom was a former member of this agency – and also the wounding of the other officers," Wayne County Sheriff Benny Napoleon said in the statement.

Michigan Governor Rick Snyder said in a statement that he had been notified that "one of the fallen officers in Dallas is a Michigan native who previously worked in law enforcement in Southeast Michigan." But he did not name Krol.

LORNE AHRENS

Senior Corporal Lorne Ahrens, a 14-year veteran with the Dallas police, was one of those killed, the Dallas Morning News Reported. Reuters was not able to reach Ahrens' family for confirmation. He was 48 years old, the newspaper reported.

MICHAEL SMITH

Michael Smith, 55, also died in the attack, KFDM television in southeastern Texas reported, citing his sister. Smith grew up in Port Arthur, Texas, and served in the military as an Army Ranger before joining the Dallas police in 1989, the television report said.
Seven police officers were injured named: Omar Cannon, 44, alongside Misty McBride, 32, who was shot in the arm and abdomen, and Jesus Retana, 39.
Expect more of this shit to happen. The thugs are on a rampage.
Related articles:
http://fox2now.com/2016/07/08/police-say-officers-have-been-targeted-in-missouri-georgia-and-tennessee/
http://www.foxnews.com/opinion/2016/07/08/war-on-cops-big-lie-anti-cop-left-turns-lethal.html