(Hat tip to www.thereligionofpeace.com) The woman on the left is one of thousands struggling to recover from months of torture and rape by the pro-Sharia group, Boko Haram.
The woman on the right is complaining about Diet Coke in a can. Can you guess which situation CAIR is concerned about – and which one it completely ignores?
There's always a back story to every incident involving 'offended' hadjis.
UPDATE: The evil, conniving little bitch made all of it up:
……an Internet posting on FlyerTalk, a popular blog for frequent flyers, that claims to be from a fellow traveler on Ahmad's flight, has a different version of the story.

(It's important to note that the blog entry is anonymous and there is no way of verifying its authenticity.)

The posting reads [with paragraph breaks added for clarity]:

"I was actually on this flight on Friday evening from ORD to DCA. I have been a reader of this forum for a long time but seeing this all over the news made me sign up so I could tell you what really happened here and hopefully stop this liar in her tracks.

I was sitting close enough to her to hear everything that was said. The flight attendant came up to the lady (I believe she even took her order first in the entire cabin as she was seated in the bulkhead 7d) and took her order.

She ordered a coke zero and a hot green tea with a Splenda. The flight attendant handed her a full diet coke with a cup on top and then told her that the green tea would take a few minutes and she would get it to her ASAP.

The lady said very rudely and condescending to the FA that she ordered a coke zero and basically pushed the soda back to the flight attendant. The FA said she was sorry and attempted to find a coke zero for her (which she did not have many of) and told her that she could only give her a portion of the can not the full can.

This is when the lady in question started to freak out and told the FA "What do you think I will use this as a weapon?! Why can't I have the whole can? I think you are discriminating against me. I need your name…." The lady just kept yelling to her "I need your name… I am being discriminated against."

This is when a few passengers told her to calm down and one guy told her to "shut her mouth and she is being ridiculous over a can of coke".

No one ever said anything anti-Muslim to her at all. She was the one who started screaming discrimination when she did not get what she wanted. The FA asked her numerous times if she would like anything else when the lady just basically pushed her away with a hand in her face.

The lady then got onto her phone with her credit card and paid for the internet so she could start spinning this story on social media and she was never in tears.

This person is a liar plain and simple and is just pulling the discrimination card."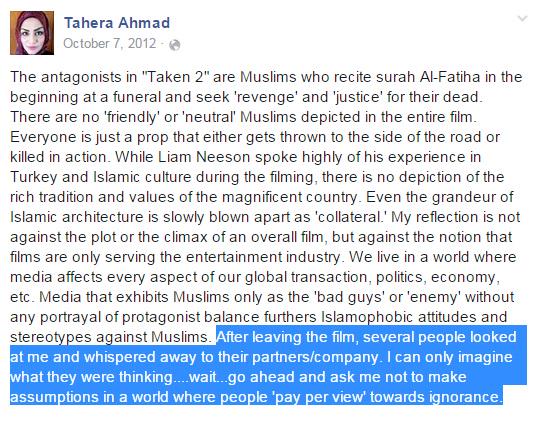 Original story:
From Breitbart.
A Muslim woman who claimed over the weekend–in a social media post that has since gone viral–that United Airlines discriminated against her because of her faith, has a history rife with deep connections to the Muslim Brotherhood and radical Imams.

31-year-old Tahera Ahmad, who serves as the Muslim chaplain at Northwestern University, claimed over the weekend that she was discriminated against because a United Airlines flight attendant allegedly refused to give her a full can of unopened Diet Coke. When asked for an explanation as to why she had been refused her unopened Diet Coke, the flight attendant allegedly told her that the Coke can could be used as a "weapon on the plane," Ahmad stated in a Facebook post. After she complained, a passenger told her, "You Moslem you need to shut the f—k up," according to Ahmad's recounting of what happened on board. Ahmad's Facebook page was taken down this afternoon.
I would have told that scrunt a lot worse.
Without any evidence (but for her firsthand account) that the incident ever occurred, many in the mainstream media have taken to reporting on Ahmad's account as a case of "Islamophobia."

Islamic supremacist groups such as CAIR (Council on American-Islamic relations) have condemned United, telling Al Jazeera that they have taken an interest in filing a lawsuit on behalf of Ahmad.
'Islamophobia':
The terrorist attack at Fort Hood.
Siege at a Sydney Australia cafe.
Boston marathon terrorist attack.
The terrorist attack against Charlie Hebdo
Muzzie terrorist beheads co-worker in Oklahoma.
Muzzie cutthroats murder off-duty British Soldier.
Muzzie terrorist shoots, kills two U.S. Soldiers at an Arkansas recruiting station.
Iraqi refugee-turned-terrorist sets off bomb at Arizona government office.
"Honor killings", beatings, genital mutilation, attempted murders, rape, and disfigurement for the sin of refusing arranged marriages to fetid 70 year-old goat herders.
Their beheadings of children and journalists for the acts of 'provoking' them by being infidels.
World-wide atrocities from the perpetually outraged muzzie excrement.
Why would we be 'phobic' over a gutter-dwelling, violent, ideologically-based 'religion' that wants us dead.
Ahmad's claims of discrimination have not been corroborated by any passengers, and United Airlines rejects that any wrongdoing or acts of discrimination occurred.

United Airlines released a statement that the flight attendant "attempted several times to accommodate Ms. Ahmad's beverage request." However, her post has since gone viral, with many calling for a boycott of United Airlines due to its alleged mistreatment of Ahmad.
Say it ain't so. The little muzzie was going to be outraged regardless. She set the scenario so that would happen.
Her resumé :
Ahmad has shown to have an affinity for radical Islamist groups that seek to employ deceptive tactics in order to advance Sharia law, Breitbart News has found. Ahmad has attended and participated in multiple conferences over the past couple years which were hosted by alleged Muslim Brotherhood front groups. She has also proudly written about, and has happily posed in photos with radical Imams.

In late December, Ahmad attended the MAS-ICNA (Muslim American Society- Islamic Circle of North America) conference, which featured prominent leaders within the global Muslim Brotherhood network.

One month earlier, Ahmad posted a picture to Facebook of her standing next to Suhaib Webb, who is the Imam of the Islamic Society of Boston, an outfit run under the same umbrella organization as the mosque attended by Boston Marathon bombers Dzhokhar and Tamerlan Tsarnaev, and a plethora of other convicted terrorists. Webb has a demonstrated history of radical connections, including him being a close confidant of Al Qaeda mastermind Anwar al Awlaki prior to the 9/11 attacks.

Ahmad is "well-known" to Yasir Qadhi, a cleric who she has frequently invited to speak to the student body at Northwestern. An audio tape of one of Qadhi's sermons revealed that he once called for Muslims to wage holy war against non-Muslims. During his speech, Qadhi went on to discuss how he did not believe that the Holocaust had ever occurred.

In April 2014, Ahmad joined an MPAC (Muslim Public Affairs Council) delegation of American Muslim women, who partnered with the White House "to host a historic forum recognizing the contributions of American Muslim women." MPAC, like the MAS and ICNA, was originally founded by members of the Muslim Brotherhood. The group has in the past endorsed a paper that rejects the designations of Hamas and Hezbollah as terrorist organizations. In 2009, the group hosted a protest where demonstrators called for the annihilation of the State of Israel. 

In 2013, she recited the Quran at the annual ISNA (Islamic Society of North America) convention. Declassified FBI documents found that the Bureau regarded ISNA as a Muslim Brotherhood front group. The FBI also found that ISNA was founded by prominent members of the global Muslim Brotherhood organization. Ahmad's bio states that she has "supported leadership for premier Muslim organizations including [ISNA]."
And wouldn't you know, B. Hussein, the resident Dhimmi in the White House, is a good pal.
Although she has an extensive record of supporting radical Islamist groups, Ahmad was recognized by the Obama White House as a leading "Muslim female in the United States," according to a release from her University. She is a frequent Ramadan dinner attendee at the White House, according to the report.
Al Qaeda holds Death To The West conferences in  Chicago, there's a substantial radical muzzie enclave in Dearborn, Michigan,  and Jamaat Al Fuqra terrorists have established training centers across the United States. The Muslim Brotherhood, the Arab-American Action Network, and CAIR, three major facilitators of Islamic terrorism, operate freely in America. A government report concluded that Hezbollah has been forming sleeper cells throughout the United States that could become operational.
Tahera Ahmad shouldn't even be allowed in this country.