As if his Apology Tour wasn't enough.
Barack Obama called Burma 'Myanmar' after a bilateral meeting with Thein Sein, the president of that country.
Obama used the word "Myanmar," the preferred terminology of the former military government and currently nominally civilian government, in a spray following the bilat, rather than use "Burma," the former name of the country, and the one preferred by Aung San Suu Kyi as well as the name the U.S. uses.

"I've shared with him the fact that I recognize this is just the first steps on what will be a long journey," Obama told reporters, with Thein Sein at his side. "But we think a process of democratic and economic reform here in Myanmar that has been begun by the president is one that can lead to incredible development opportunities.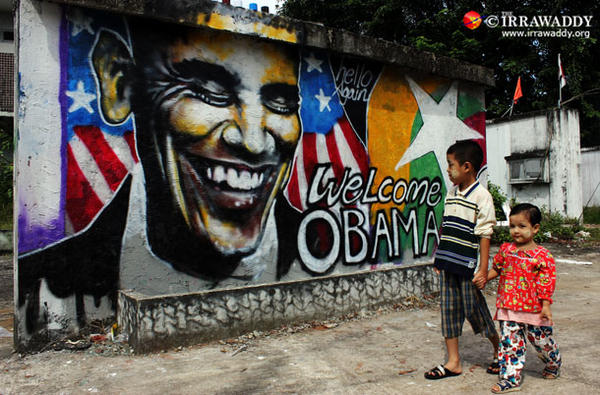 Obama repeatedly mispronounced Aung San Suu Kyi, and botched the name of his official host, Burma's reformist new president, Thein Sein.
Flashback: Obama signed a "non-aggression' pact with the former Myanmar tyrants.
Bubba Clinton 'diplomacy'. What will MoMo think?:
Obama meets with Cambodia's strongman.
Obama arrived in Cambodia on Monday having just won four more years in office, but that is nothing compared to his host, Hun Sen. The 60-year-old Cambodian prime minister has held power since Ronald Reagan was in the White House, and says he's not stepping down until he is 90.

Hun Sen is known as one of Asia's most Machiavellian politicians, with a knack for making sure his rivals end up in jail or in exile. A laudatory biography is subtitled "Strongman of Cambodia," and some would say that's putting it mildly.
Obama's world class embarrassment continues.