Damn. I was hoping the cops would have to shoot the little bastard.
Update:
A second 16-year-old arrested in connection with the beating death of an 88-year-old World War II veteran is scheduled to make a court appearance Tuesday as another teenager was ordered held on $2 million bail.
Demetrius L. Glenn, also 16, made an initial court appearance Monday afternoon. He is charged with first-degree murder and first-degree robbery in Spokane County District Court. The charges carry a potential life sentence.

District Judge Richard Leland, presiding over a packed courtroom, said the brutality of the attack and vulnerability of the victim make the high bail proper. Glenn had turned himself in Thursday night, the same day Delbert Belton died of his injuries.

……The second 16-year-old, Kenan Adams-Kinard, was arrested without incident early Monday on a warrant for first-degree murder and first-degree robbery. He has a court appearance scheduled for Tuesday and will also be tried as an adult.
Original story:
Submitted by Fox First at Ten on August 26th:
SPOKANE, Wash. – Kenan Adams-Kinard, 16, the suspect in the robbery and murder of 88-year-old, WWII veteran, Delbert Belton, was arrested just after 3am Monday morning in a basement apartment at 500 W. Montgomery in Spokane without incident.

Good investigative work and follow up on dozens of tips led to the apprehension of the suspect 4 days after the initial incident.

Adams-Kinard was arrested on a 1st degree robbery and 1st degree murder warrant.

Several other people with him have been arrested for rendering criminal assistance.

Last week, on 8/23 Spokane Police arrested the first of the suspects, a 16-year-old male, charged with 1st degree robbery and 1st degree murder.

Chief Straub will hold a news conference later today.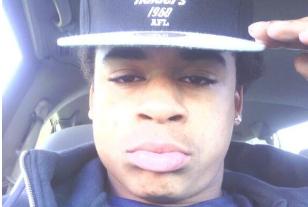 Adams-Kinard, who could be 'Obama's son'
Related post:
http://sfcmac.wordpress.com/2013/08/23/suspect-arrested-in-hate-crime-murder-of-elderly-white-veteran/
Related articles