It's been 12 years since almost 3000 people were murdered by muslims on our soil, but in case you've forgotten, we are still at war with subhuman cutthroats who want us dead.
This year, filthy little muzzie scumbags plan to rub the bloody attack in America's face by conducting a rally; "Million (muslim) Americans Against Fear", formerly known as the "Million Muslim March".
That's pretty despicable, considering they're the fucking pigs who initiated the fear.
The World Trade Center
The Pentagon
Shanksville, Pennsylvania
In contrast, there will be a "2 Million Bikers to DC" rally to remember those who were killed on 9/11 and honor our armed forces. Here's the link to more information: https://www.facebook.com/events/723780277635641/permalink/726435750703427/
Guess which ones were granted an official permit by the bureaucratic assholes in D.C.  Hint: It wasn't the patriots.
HOOAH!!!
UPDATE:
UPDATES on the ride HERE, HERE, and HERE.
Over 800,000 rolling through D.C.: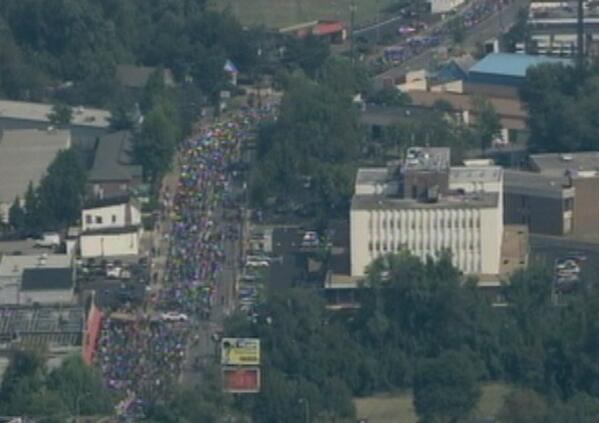 "Million Muslim March" vanishes in a sea of bikers. (Human Events)
More from Twitchy.
From the Right Scoop:
The bikers plan to meet at the Harley Davidson in Fort Washington, Md., on Wednesday morning, where they will have opening ceremonies, blessings, the Pledge of Allegiance and a handful of speakers. The final route has not yet been announced "for security purposes," the group said.

"[O]n September 11th, we ride as one!!" the group said. "We ride to pay tribute and offer respect to those that lost their lives on that day 12 years ago, and to salute our troops engaged in the War on Terror. Riders!…we are the best of the best in America!! Our love for these people and this country is staggering, and we will make a display of Patriotism and solidarity America won't soon forget!!"
For the muzzie pigs:
My yearly statement:
It's damned important that we remember not just the heinous attacks on the World Trade Center, the Pentagon, and the one thwarted by brave people over a field in Shanksville, Pa., but resolve that it never happens again.
You'd have thought that Pearl Harbor taught us a lesson, but 60 years had passed, memories faded, and complacency set in.   There is a different enemy this time around, but they're just as determined.
Our borders leak like sieves, our immigration policies are lax, and we have slid back into complacency.
Al Qaeda holds Death To The West conferences in  Chicago, there's a substantial radical muzzie enclave in Dearborn, Michigan,  and Jamaat Al Fuqra terrorists have established training centers within our own borders.  The Muslim Brotherhood, the Arab-American Action Network, and CAIR, three major facilitators of Islamic terrorism, operate freely in the United States. What the hell are they doing here?  They have no damned business being in this country.
The way our security is handled, especially with Obama in charge, muslims have the green light to plan and carry out more attacks.   The ratio of arrests compared to the existing threat is alarming.  Just think of the hundreds of muslim extremists they haven't caught.
The  gutless refusal of the TSA and DHS to profile at our airports and scrutinize the muslim organizations in America, will probably result in another catastrophic attack.  It's PC collusion at its worst.  Last time they targeted buildings full of military personnel and civilians, using passenger planes as human-filled missiles.  Future attacks could involve our infrastucture—electric and nuclear power plants, oil refineries, water treatment facilities, and internet servers. Biological and chemical weapons are portable and easy to deploy.  A bio agent like Ricin is inexpensive and can be produced in mass quantities.  It can be in liquid or powdered form, and  dispersed in food, water, and through aerosol methods.  Right now, there is no known antidote.
The next mass attack will make 9/11 look like a fucking picnic. I hope for the sake of my country that I am wrong, but I don't think so.
The problem is–and this cannot be stressed enough–is that the enemy has patience.  In 1993, they carried out the first attack on the World Trade Center.  People tend to forget that.  Eight years later, they successfully brought down both towers, rammed into the Pentagon, and were foiled in a third attack by brave souls on United Flight 93.  They understand us better than we understand them. They will continue to exploit our openness and unwillingness to completely destroy the Islamic nation-states who fund, train, and indoctrinate their terrorist spawns.
Atrocities and brutality are carried out worldwide in the name of their "Islam", but Western civilization is oblivious.
Unless or until we are willing to reciprocate with the same brutality, they will be back.
Til then, this war ain't over by a long shot.
Link to videos of the attacks and the horrible aftermath:
http://sfcmac.wordpress.com/2011/09/11/911-never-forget/
Related post:
http://sfcmac.wordpress.com/2012/09/11/11th-anniversary-of-911/