From Fox News.
A man under surveillance by the Joint Terrorism Task Force was shot and killed Tuesday morning after he refused to put down a military-style knife while approaching two officers, MyFoxBoston.com reported.

Authorities identified the deceased man as 26-year-old Usaama Rahim. The shooting occurred outside a CVS pharmacy in the town of Roslindale. The station reported that a Boston police officer and FBI agent confronted the Rahim, who they say pulled out a large, black, military-style knife. Officials say the man was told repeatedly to put down the weapon, but did not comply.

"The officers asked him several times to put that knife down. They gave him several commands. The officers tried their best, repeating, again, several more orders to put down. And at that point, he came within the proximity that the officers used deadly force," said William Evans, Commissioner of the Boston Police Department. Evans said Rahim was struck by two bullets: once in the abdomen and another in the torso.

Evans identified Rahim as a known suspect and the officers approached him for questioning at the time of the shooting.

Rahim died at the Brigham and Women's Hospital. Authorities did not discuss why he was under surveillance. The district attorney promised to investigate the shooting and the FBI agents pledged their cooperation.
The shitbag was the brother of Boston imam Ibrahim Rahim who worked as an associate Imam at Masjid Al-Quran in Dorchester, MA until 2011.
After his brother was removed from the gene pool, he tweeted this: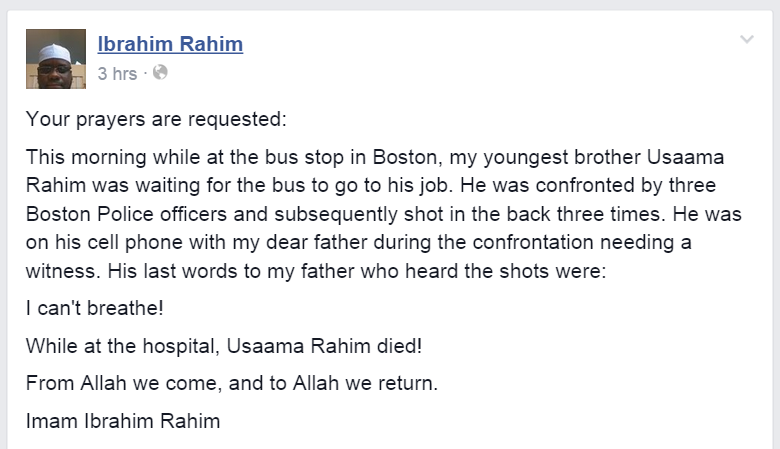 "I can't breathe"?
Mutherfucker can't even come up with an original catch phrase.  His back wasn't turned toward the cops when he was shot. They got him in the front when he lunged with the combat knife. It's a simple case of suicide by cop.
One less muzzie threat on the planet. Allah U Fuckbar.