I'm shoveling about 2 feet of the "global warming" shit off of my driveway and porch….where the hell is Al Gore's fat ass?
In my neck of the woods:
These are just a few pictures sent in to Fox 8 from across Ohio at this link: http://fox8.upickem.net/engine/ApprovedSubmissions.aspx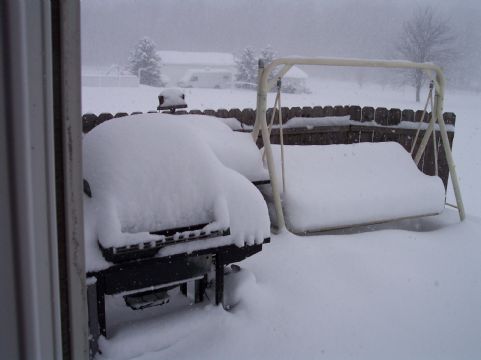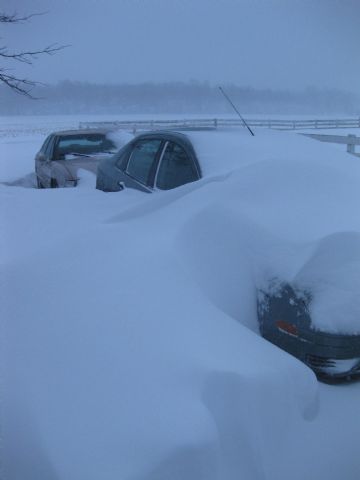 If you are heading out Saturday morning be prepared to encounter treacherous driving conditions.

The mounting snow is a concern for drivers, many of whom want to avoid the wrath of snowy roads at all costs.

Fox 8 Meteorologist Dick Goddard says drifts of snow could amount to several more inches by late this afternoon.

The storm system is moving east, burying counties in its wake.

A winter storm warning, which the National Weather Service issued well in advance of the storm, applies to Ashland, Carroll, Columbiana, Holmes, Knox, Richland, Stark, Tuscarawas and Wayne counties.

A less severe winter weather advisory has been issued for Crawford, Hancock, Huron, Lorain, Mahoning, Medina, Portage, Seneca, Summit, Trumbull and Wyandot counties.

All alerts will remain in effect until noon today.

The winter advisories will make driving difficult in all areas affected by the storm. The National Weather Service says snow-covered roads should be avoided if possible.

Fox 8 Meteorologist Andre Bernier said that the snow should pull back Saturday afternoon, letting patches of sun shine down on northeast Ohio. He warns that brisk winds will sweep in from the northeast.

The turnpike should serve as a dividing line, with regions north of the turnpike expecting around three inches of accumulation, while areas south could receive between six and ten inches.

……Meanwhile, Fox 8 Reporter Jack Shea spoke to residents in the Akron-Canton area. Tai Robinson stocked up on supplies, and said, "[I'm] getting to the grocery store, making sure we don't have to come back out. Trying to stay in and stay off the streets as much as possible."

Street crews are also doing their best to keep ahead of the storm, and hope they steady snowfall doesn't overtake their efforts.
http://www.fox8.com/news/wjw-news-cleveland-ohio-winter-weather,0,2455214.story
From D.C./Maryland/Virginia:

weather.gov
U.S. Dept. of Commerce
NOAA National Weather Service
1325 East West Highway
Silver Spring, MD 20910
E-mail: w-nws.webmaster@noaa.gov
National Weather Service

Watches, Warnings & Advisories
2 products issued by NWS for: Washington DC
What Climategate can't dispel about "global warming", Mother Nature fills in. Spring can't come soon enough.