From the Daily Caller.
The left-wing group that helped organize the violent shut down of the Milo Yiannopoulos event at the University of California, Berkeley on Wednesday is backed by a progressive charity that is in turn funded by George Soros, the city of Tucson, a major labor union and several large companies.

The Alliance for Global Justice, based in Tucson, is listed as an organizer and fiscal sponsor for Refuse Fascism, a communist group that encouraged left-wingers to shut down the Yiannopoulos event.

……Refuse Fascism, which includes Princeton professor Cornel West as one of its founding "initiators," defended the response, issuing a statement on its website that called the shut down "righteous."

……According to its most recent 990 tax form, Alliance for Global Justice (AfGJ) received $2.2 million in funding for the fiscal year ending in March 2016.

One of the group's biggest donors is the Tides Foundation, a non-profit funded by billionaire progressive philanthropist George Soros. Tides gave AfGJ $50,000.

Other notable donors include the city of Tucson and the United Steel Workers labor union. The former gave $10,000 to AfGJ while the latter contributed $5,000.
What an assortment of shitbags: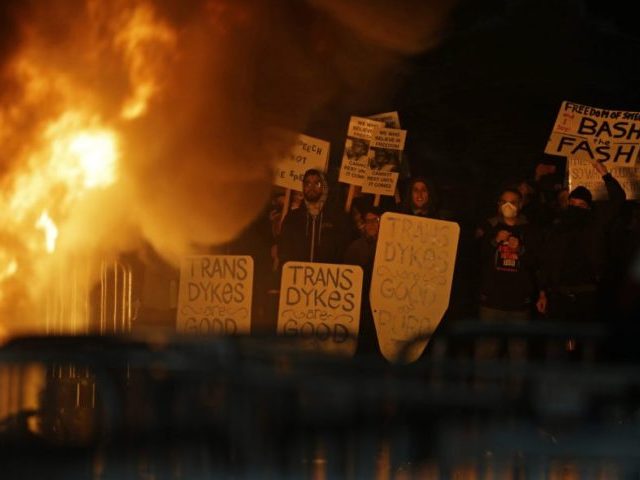 From Breitbart:
The riot started at UC Berkeley on Wednesday after protesters against Breitbart Senior Editor MILO became increasingly violent outside of his show.

"Anti-fascists" started several fires, smashed windows and ATMs, looted downtown stores, attacked cars, and assaulted dozens of MILO fans, male and female, who they falsely accused of being "Nazis."

Despite the large amount of violence, numerous reports indicate that police officers refused to intervene, and only one suspect was arrested.

UFC veteran and professional MMA fighter Jake Shields was even forced to rescue a man who was being assaulted by left-wing rioters after police allegedly refused to intervene.

"Like fifteen people were trying to attack him and others were cheering them on," explained Shields, who managed to successfully rescue the man, in an interview with Breitbart News. "No one helped, no one had the balls to step in, so my reaction was to run in and start picking people off."

"More chaos started happening, so I went up to the police and tried bringing them back, but they were just like 'we're not really going over there. You should just stay away.'" he continued. "I don't know if they were taking orders from someone or if they were just being lazy. I don't know what the situation was, but it was pathetic to watch. Our police, who are supposed to defend the citizens of Berkeley. It's a sad scene that they would allow that."
Anarchist thugs run wild through the streets, committing arson, assault, and vandalism but the cops act like spectators.  Who the hell told them not to stop this shit?  Probably the unhinged LeftProg mayor Jesse Arreguin.
Soros is known for using his money to finance some pretty despicable things.