He needs to be more forceful, as in: We should have vaporized your goat-smelling asses on 9/12.
What a refreshing change. No apologizing.  No bowing. We have a president who is telling the Islamofascist nation states to get rid of extremism.
From Fox News
President Trump Sunday in a highly-anticipated speech to Muslim leaders during his first foreign trip called for unity between the U.S. and Middle Eastern nations in the fight to "stamp out extremism."

During his second day of his first trip abroad, Trump's speech in Riyadh, Saudi Arabia addressed the leaders of 50 Muslim-majority countries to challenge extremism by cutting off the financing of terrorist groups.

Trump announced the six-nation Gulf Cooperation Council, which is committed to prosecuting the financing of terrorism.

"Our goal is a coalition of nations who share the aim of stamping out extremism and providing our children a hopeful future that does honor to God," Trump said.

The council comprises Saudi Arabia, Qatar, Kuwait, Oman, the United Arab Emirates and Bahrain.

Saudi Crown Prince Mohammed bin Nayef and U.S. Secretary of State Rex Tillerson will sign the memorandum of understanding in Riyadh, according to Reuters.
First Lady Melania Trump and daughter Ivanka showed courage by refusing to wear head scarves; choosing instead to show the muzzies that Americans dress the way they want, not according to the misogynist Islamic tripe.
The Saudis have no interest in 'stamping out extremism'. I've said this shit from the beginning: Saudi Arabia is not our friend. It's one of the worst Islamic terrorist nation-states on the fucking planet.  Wealthy Saudis remain the chief financiers of worldwide terror networks.
Ali Ahmed Ali Hamad, a former al-Qaeda fighter, gave information about the Saudi participation in terrorism.  He stated that the Saudi High Commission, an agency of the Saudi government, and other Islamist charities supported al-Qaeda-led units that committed atrocities. Mujaheddin units recruited fighters, prepared for battle, and financed their operations.  The Saudi High Commission had poured tens of millions of dollars into mujaheddin units led by al-Qaeda operatives who fought with Osama bin Laden in Afghanistan.
The Saudi government  not only finances the Islamic war against the West, but it provides ideological indoctrination of the terrorists that carry it out.
Saudi Arabia is a backwards, Islamofascist, terrorist breeding, oppressive, misogynist theocracy.
Its major export is jihad.
Every Islamic nation-state fosters terrorism against Western civilization. There are no 'Arab allies'.
None of them are strangers to terrorist organizations.  The very Islamofascist nation-states that breed, fund, indoctrinate, and support terrorism, are now getting attacked by their own spawns.
Just some of the culprits,  six of which are on the Gulf Cooperation Council:
Bahrain:
Although not extensively involved in global jihad, Bahrain maintains a facade of anti-extremismwhile using Sunni Islamists to oppress other factions within the country.  The government has also cracked down on dissent in the media and anti-government demonstrations.
Qatar:
Al Jazeera, the network for Islamofascist propaganda, is based in Qatar.
Qatar is dominated by Wahhabist extremists, who are sympathetic to terrorist groups.
It  has emerged as the world's chief sponsor of Sunni terrorism, it smuggles weapons into Libya and Syria with the complicity of the Obama Administration, and it was also a chief backer of Morsi in Egypt.
Qatar is among the chief financial sponsors of international terrorism.
The five Taliban cutthroats Obama exchanged for Bergdahl the deserter/traitor were welcomed by Qatar.
Saudi Arabia:
Saudi Arabia is a backwards, Islamofascist, terrorist breeding, oppressive, misogynist theocracy.
Its major export is jihad.
They are the chief financial backers of world wide terrorist networks.
Jordan:
Sends double agents to commit insider attacks against American personnel in Afghanistan.
Islamic terrorism and extremism are deeply rooted in Jordan, to include the Muslim Brotherhood,  Islamic Action Front (IAF) and Salafi jihadism. As with other Arab countries, this permeates the government, schools, and everyday life.
The United Arab Emirates are  heavily involved in Islamic terrorism.
Iraq:
Aside from 25 years of brutal dictatorship under Saddam Hussein, a WMD-wielding megalomaniac, Iraq did business with terrorist groups for years.
Afghanistan:
After we helped the Afghan mujaheddin kick out the Soviets, the Taliban took over and inflicted a five year reign of brutality. It also became an operating base for Al Qaeda, founded by Osama Bin Laden toward the end of the Soviet war. Bin Laden established camps and started his jihad in 1987.
Egypt:
Egypt went full blown Islamofascist from 30 June 2012 to 3 July 2013, with the election of Mohamed Morsi, a member of the Muslim Brotherhood, which has quite a history evolving in Egypt.  He was overthrown by a group led by Field Marshal Abdel Fattah al-Sisi, who became president of Egypt in 2014.
Libya:
Al Qaeda operatives were behind the attack on the U.S. embassy in Benghazi that killed 4 Americans, including the ambassador.
At least his speech was better than Obama's. Barky bent over and kissed their ass on his very first visit to Cairo.  That was the first leg on his world-wide apology tour.  Obama's  shameful apology tours covered Europe, the Middle East, Cuba, Japan, Latin America, and in front of the U.N.
Trump's visit to Israel should have been the only visit to the Middle East, since they're our only real ally.
At least he's showing them more respect than Obama ever did:
"Never before has the first foreign trip of the president of the United States included a visit to Israel," Netanyahu said in his remarks at the airport ceremony. "Thank you, Mr. President. Thank you for this powerful expression of your friendship to Israel.

Upon landing, Trump praised "unbreakable bond" between the U.S. and Israel. "On my first trip overseas as president, I have come to this sacred and ancient land to reaffirm the unbreakable bond between the United States and the State of Israel," Trump said.

"We love Israel, we respect Israel, and I bring the warmest greetings from your friend and ally, all of the people of the United States of America," Trump stated.
This is something you would have never heard out of Obama's piehole and is an affirmation of our commitment:
Down through the ages, the Jewish people have suffered persecution, oppression and even those who have sought their destruction. But, through it all, they have endured – and they have thrived.

I stand in awe of the accomplishments of the Jewish People, and I make this promise to you: My Administration will always stand with Israel.
After eight years of Obama's disrespect, Benjamin Netanyahu is pleased with the new administration.
He was the first sitting President ever to visit the Western Wall.
https://www.facebook.com/DonaldTrump/videos/10159178335735725/
Melania demonstrated consideration and class by holding the hand of Israel's First Lady, Nechama Rivlin, who carries an oxygen tank due to a respiratory illness. She went beyond normal diplomatic protocol and presented an image of kindness.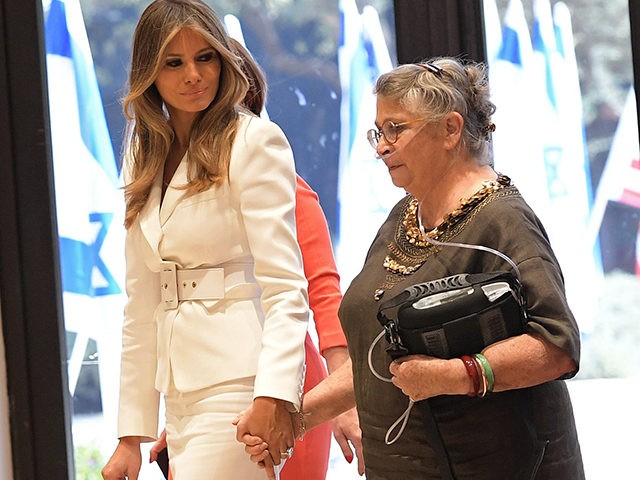 The First Lady at the Western Wall.
Trump should remain steadfast in his policy of pro-Israel, anti-muzzie terrorist policy.  Back it up with action.
Related post:
https://sfcmac.wordpress.com/2016/04/14/redacted-documents-prove-connection-between-saudi-arabia-911-and-world-wide-terrorism/
Related articles: 
http://www.breitbart.com/jerusalem/2017/05/22/melania-trump-breakout-star-trumps-first-foreign-trip/
http://insider.foxnews.com/2017/05/21/ivanka-trump-tweeps-conference-saudi-arabia-young-arab-muslim-tolerance
http://www.breitbart.com/big-government/2017/05/21/trump-obama-muslim-islamic-terror-speech/
http://www.breitbart.com/big-government/2017/05/21/kassam-from-cairo-to-riyadh-trump-urged-action-on-terror-where-obama-offered-islamic-apologism/